Miss Bicolandia 2001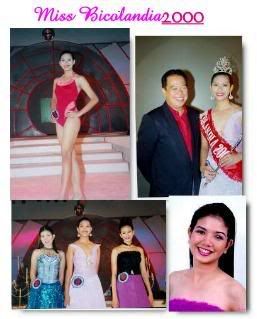 The annual search for Miss Bicolandia, highlighting the Peñafrancia festivities this September, is again on, offering the beauty pageant winners top cash prizes, trophies and special awards.
Contestants must be from 16 to 23 years of age, at least 5'3" barefoot height, single, in good health, of good moral character and reputation, and has never been a mother.

Final selection of Miss Bicolandia 2001 and the pageant's runners-up is set for Tuesday, September 11. Coronation ceremonies will be on the night of the same day at the University of Nueva Caceres Sports Palace here.

Winners of the Miss Bicolandia title will receive P75,000 plus trophy and sash, with the First Runner-Up getting P50,000 and the Second Runner-Up, P35,000. The runners-up will also be given trophies and sashes. There will also be special awards for Miss talent (P7,000); Miss Photogenic, Miss Friendship, Best in Gown, Best in Swimsuit, at P5,000 each with trophy and sash.


Source: http://www.naga.gov.ph/news/miss_bicolandia_2001.htm
Labels: Miss Bicolandia 2001, Press release
Subscribe to Posts [Atom]