Search is on for Miss Bicolandia 2002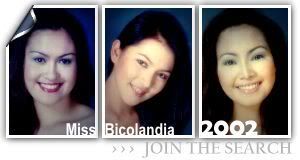 Over P200,000 in cash prizes are at stake in this year's Miss Bicolandia Beauty Pageant, one of the highlights of the two-week-long 2002 Penafrancia Festival.

City Councilor Lourdes V. Asence, Chair of the Peñafrancia Fiesta Executive Council yesterday announced that the search is on for the most beautiful maiden who will be this year's Miss Bicolandia.

Recruitment Chair Bernadette F. Roco said the search is being conducted nationwide and in places where there are Bicolano communities.

Cash prizes also await talent scouts of the winning top three candidates, she added.

A candidate must be a Bicolano by birth or blood; at least 16 years of age but not more than 23 on proclamation night; stand at least 5'3" in height; must be single and has never been a mother; and must have reached at least 4th year high school level.

Councilor Asence said application forms are now available at the Secretariat, Office of the Sangguniang Panlungsod, Naga City, with telephone numbers (054)472-7919 or (054)473-2050.

She added that these application forms would soon be available in various LGUs in Bicol and in Metro Manila, care of Mrs. Bernadette Roco at Rm. 616, North Wing, House of Representatives, Quezon City with trelephone no. (02)931-6026.

Deadline for submission of application form and other requirements will be on August 26, 2002.

Pageant night has been scheduled on September 18, 2002 in Naga City with celebrity stars and prominent government officials as guests.


Source: http://www.naga.gov.ph/journal/2002/24JUL02.html
Labels: Miss Bicolandia 2002, Press release
Subscribe to Posts [Atom]